Every recruiter has found themselves working on roles that get pulled because they weren't a priority. How can we ensure that doesn't happen?
How can a hiring manager get full dedication of time and resources from a recruitment agency?
The Agile methodology promotes the consensus on what's more important to stakeholders and customers and where trade-offs should be made. Recruitment should be no different, whether an internal or agency recruiter, prioritising hires along with key stakeholders and hiring managers is essential to hitting targets, staying within budget and driving business success. It's often an overlooked objective within HR, especially within digital businesses where there can be a shortfall of pedigree talent and where the market moves at pace. Growth plans are all good and well but without the capability to facilitate scale these priorities have to be in place.
Milestones can be met if you understand what you're trying to build or achieve. John Connolly (CPO of Springer Nature) say's: "Do you compromise on quality to meet revenue demands or build a robust scalable IP, that is to be determined. Hiring plans need to coordinate with what you are trying to prove."
I've heard many techniques and approaches over the years like "grading new openings from A-C (A being: 'I needed it filled yesterday and C being: "not important, it can wait") OR from an agency standpoint (A likely to fill and C not likely to fill). Factor included from the agency side are: the number of agencies working the role/s, niche requirements, timeframes, process, speed - the list goes on!
The format below is my favourite. It quickly reveals where time should be invested or where there are demand and pain points.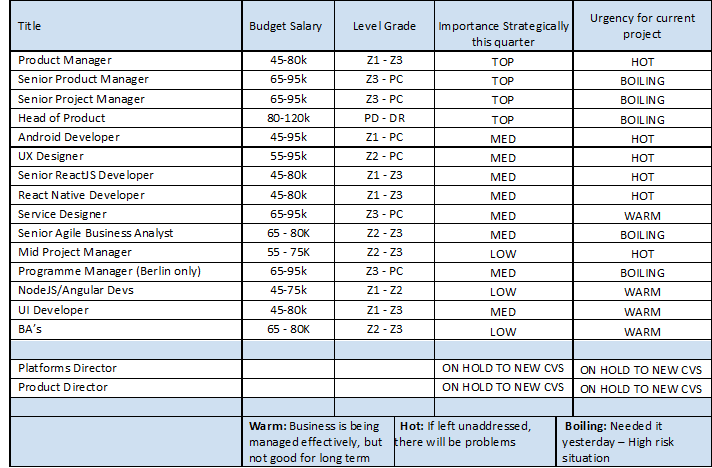 Whether it's the hiring manager, the CEO or a recruitment agency that you're liaising with, something like this format will help align all parties to a common and transparent goal. Fill rates and retention will most likely improve because time and energy are being aimed at the same objectives.
It's simple but hopefully, it can help someone or somewhere in your business. Give it a try, send it to your recruiter or request that your hiring managers fill it out.
I'd love to hear your feedback! email bnewsome@welovesalt.com
{
"Every time we have gone through quick growth spurts, we set aside a period of 6-9 months in which we grow far less aggressively. This is the fixing phase. We ask questions like: have we got the structure right? Is what we imagined 12 months ago actually what we need? We shore up the foundations, and make sure that we are building on solid ground. This then prepares us for the next phase of growth. If you don't fix, and instead grow your team at a consistent gradient of 45 degrees, you will never have time to fix the foundations. This can lead to catastrophic failure." Chris Morten, Founder of LYST
unknown

x

500